Foursquare + Your Business
Foursquare aims to encourage people to explore their neighborhoods and then reward people for doing so. They do this by combining our friend-finder and social city guide elements with game mechanics — our users earn points, win Mayorships and unlock badges for trying new places and revisiting old favorites.
As a business owner, you can use foursquare to engage your increasingly mobile customers with foursquare "Specials," which are discounts and prizes you can offer your loyal customers when they check in on foursquare at your venue. Don't forget to show extra love to your venue's Mayor! Additionally, if you offer foursquare Specials to your customers, you will be able to track how your venue is performing over time thanks to our robust set of venue analytics — for free!
If you want to dive right in, get started by claiming your venue right from its foursquare venue page:

Okay, now for more detail on our services for business…
Simple tools to create engaging Specials
Foursquare has built a simple self-service tools to allow you, the business manager, to create different kinds of foursquare Specials, manage multiple Specials and ultimately track how these Specials perform. These services will empower you to develop more engaging ongoing relationships with you customers. You'll be surprised how effective a little friendly competition — over the Mayorship, over free fries! — is at driving customers back to your venue.
Use our tools to create a variety of foursquare Specials, customized just for your venue and for your customers:
Mayor Specials: unlocked only by the Mayor of your venue. Who's the Mayor? It's your single most loyal customer! (the user who has checked in the most in the last 60 days)
("Foursquare has deemed you the Mayor? Enjoy a free order of french fries!")
Check-in Specials: unlocked when a user checks in to your venue a certain number of times.
("Foursquare says you've been here 10 times? That's a free drink for you!")
Frequency-based Specials: are unlocked every X check-ins.
("Foursquare users get 20% off any entree every 5th check-in!")
Wildcard Specials: always unlocked, but your staff has to verify some extra conditions before awarding the Special.
("Show us your foursquare Swarm badge and get a free drink!")
And more to come!
Promoting your Specials in-store
Venues have been known to promote their involvement with foursquare via Twitter, signs at cash registers and sidewalk blackboards. Go for it, and be creative! Also, Foursquare can help you market your Special to your customers by sending you official foursquare window clings. Let Foursquare know if you're interested in some and they will get you on the list (they'll be ready for distribution in June)!
Or, download the pdfs (green, blue) and create your own!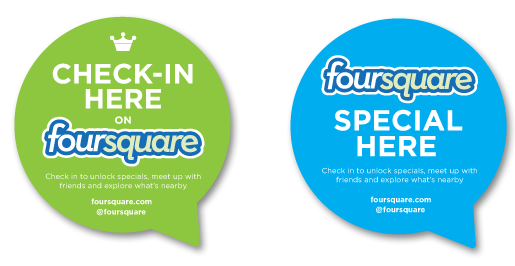 Real-time venue stats
Once you claim your venue on foursquare, you'll be able to check real time stats about your venue, including:
most recent visitors
most frequent visitors
the time of day people check in
total number of unique visitors
histogram of check-ins per day
gender breakdown of customers
portion of foursquare check-ins broadcast to Twitter and Facebook
… and more coming soon!
Promoting Specials across the mobile experience
Foursquare has woven the Specials platform tightly into all of their official foursquare mobile clients (iPhone, Android and Blackberry) and they actively call attention to venues that offer Specials for Foursquares users. For example, if a Foursquare user is at your bar/restaurant, we'll tell them what they have to do to unlock a free snack or discounted drink. If they happen to be across the street or two blocks away from your venue, we'll let them know that your business gives special treatment to foursquare users and that they should swing by for a visit.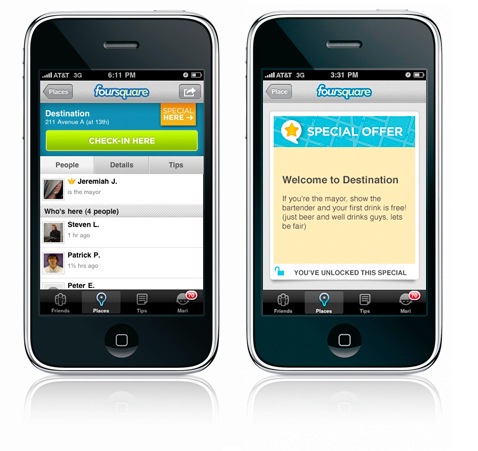 How to get your Business started?
Go to Foursquare, search your business, and then click the link: Are you the manager of this business? Once you have done that let us here at 4SqINDY and we will let everyone know about it as well by adding it to our list. Just add a comment to this page.
See how other businesses are using foursquare. It's a whole thing!
Source: Foursquare